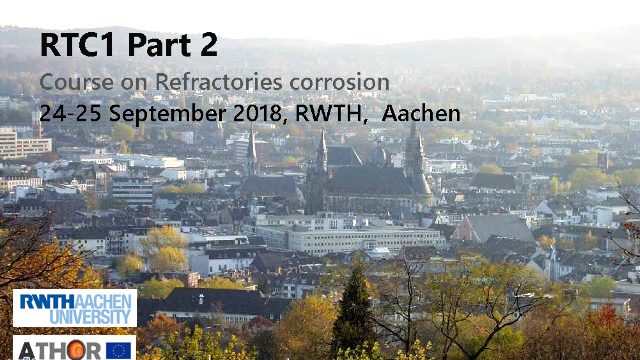 Second network-wide Refractory Training Course on Corrosion, 24-25 September 2018, Aachen
After the first successful training course on Fracture Mechanics of Refractories organized and hosted by the Montanuniversität Leoben, our consortium members will reunite again for the next scientific meeting, dedicated to the Corrosion of Refractory Materials.
This course will include the
introduction to the fundamentals of corrosion with the focus on high-temperature corrosion
computational thermochemistry
processes on the liquid-solid interface during corrosion
reactions of refractories with steel and slag
role of refractories to the steel quality and cleanliness
some practical examples from steel industry
The training will take place during the same week with the 61st International Colloquium on Refractories 2018 in Aachen, Germany. This time, all of 15 ATHOR young PhD researchers will be gathered for both scientific events and will present their works during the poster session of the colloquium meeting on the 26th of September. Moreover, a special booth dedicated to the project will be set by RWTH university in the exposition hall of the EUROGRESS colloquium venue. To better imagine the scientific and technological challenges of the Iron & Steel manufacture the course will be accomplished by the visit of our industrial partner – Tata Steel high-quality steel production plant in IJmuiden, Netherlands.
This training week is a great opportunity for specialized and general public to get acquainted with our European project, to discuss the contribution that we intend to make to the steel making industry while fostering the next generation of highly qualified engineers in the field of refractory materials and linings.
For more information, see the flyer of the 24-27/09 training week