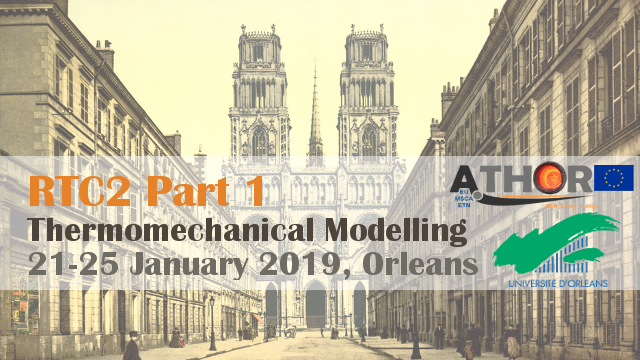 Third network-wide Refractory Training Course: Thermomechanical Modelling, 21-25 January 2019, Orléans
This training course is referred to the category RTC2 of the academic courses on theoretical basics and modelling. Its first part will take place during the last week of January 2019 in Orleans (organized by University of Orléans and Polytech Orléans), and will be focused on thermomechanical modelling.
More specifically, the program will contain:
Fundamentals of mechanical material behaviour
Introduction to elastoplasticity
Computational plasticity
Masonry modelling
Thermal and thermal-mechanical FEM in the steel industry
Practical sessions: Exercise on Abaqus software
Thermo-mechanical properties and modelling of fused-cast refractories
The individual research projects follow up will take place via the poster session on Tuesday 22nd of January where all ESRs will have an opportunity to demonstrate their results and to have organized discussion with their mentors and field expert scientists.
Moreover, to explore always spectacular glass production technology ATHOR RTC2 Part1 participants will visit a Duralex glass factory, situated in La-Chapelle-Saint-Mesmin 20 min away from Orleans. It's a historic production site which pioneered in tempered glass technology and is now a well-known brand of kitchenware.
For more information, please see the flyer of the 21-25/01/19 training week.