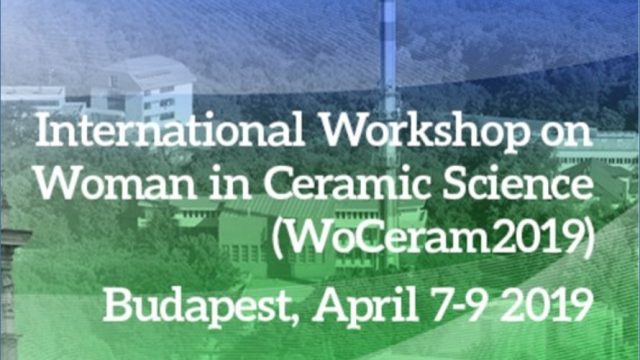 The ATHOR project was represented at the International Workshop on Women in Ceramic Science (WoCeram2019), which took place in Budapest on 7-9 April, by our young researcher Diana Vitiello.
Hosted at the Novotel Danube Budapest, on Buda side of the river, the workshop was a combination of scientific presentations, a poster session, networking and first hand advice on how to juggle motherhood and a research career!  It was attended by 50 participants including 8 invited speakers, 14 oral presentations and 20 poster presentations.
Lasting three days the workshop covered a wide range of topics including biomedical applications, diamond tools, Raman spectroscopy, science and archeology, joints, new promising coatings and phase diagrams to name a few.
This was also an excellent opportunity to hear about the contribution WoCeram organizer Katalin Balazsi, Hungarian Academy of Sciences, Centre for Energy Research, makes to gender equality.  Every year visits are organized for girls (typically 15/16 years old) to laboratories and companies to introduce them to how science can be used in the real world.  This year girls will be coming from all over Hungary to visit Coca-cola and take part in this very well known event.
Thanks to the central position of the 4* hotel, the participants also had the opportunity to enjoy the wonders of Budapest.  The Parliament, Buda Castle on Castle Hill (reached by the Funicular Railway), the synagogue (the second biggest in the world) and Heroes' square were only some of the sites visited.