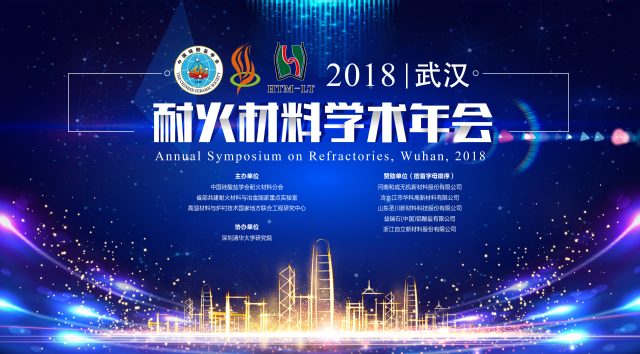 Wuhan symposium on refractories, China
This autumn, ATHOR team had this opportunity to participate in « 2019 Annual Symposium on Refractories" from October 9th to October 11th, in Wuhan, China. The annual symposium on refractories has been held every year since 2017. This year it was held in Qingshan Campus of Wuhan University of Science and Technology, with the theme "innovation leadership and green development".
The annual symposium lasted three days and arranged a total of 96 reports in three sub-meetings. During the conference, our general coordinator, Prof. Marc Huger presented ATHOR project to the audience. In addition to the conference, ATHOR students had the chance to grasp some knowledge during three other events, the Refractory Technology Short Course, the China-Germany-Austria Postgraduate Academic Forum, and the ATHOR Course.
On the afternoon of October 9th, the "Refractory Technology Short Training Course" was held. Five scholars from France and the United States were presenting the latest research progress and related basic theories of refractories and ceramics for the teachers and students. The content of the course was as follows:
"Innovative refractory solutions from laboratory to industrial applications: raw materials, steelmaking, incinerators", by Professor Jacque Poirier and Professor Emmanuel de Bilbao
"Multi-scale composite research methods for thermomechanical properties of refractories: From grain to material », by Professor Marc Huger
« Deformation of ceramics, damage and fracture mechanism », by Professor Michel Boussuge
« Process, microstructure and properties of advanced refractories », by Professor Stefan Schaffoener
In the China-Germany-Austria Postgraduate Academic Forum, Graduate students from these three countries exchanged 14 academic reports. The ATHOR PhD students from Montanuniversity of Leoben presented their research work in this session.
ESR8 – Thanh Hung Nguyen – « Characterization of micro mechanism of fracture using miniaturized wedge splitting test »
ESR14 – Soheil Samadi – « Statistical study of compressive creep parameters of an alumina spinel refractory »
During the last day of the symposium, ATHOR course was held with four lectures, as follows:
"New types of Carbon Sources in Carbon Containing Refractories", by Professor Li Yawei
"Hydration resistance of CaO granules prepared by granulation method", by Professor Wei Yaowu
"Energy efficient lightweight refractories for working linings of high-temperature furnaces", by Professor Yen Wen
"Dynamic interaction of alumina based refractories and metallurgical melts", by Professor Huang Ao
Finally, after a fruitful conference ATHOR young researchers had the opportunity to visit the refractory production plant of MAsteel company in Ma'anshan, China.