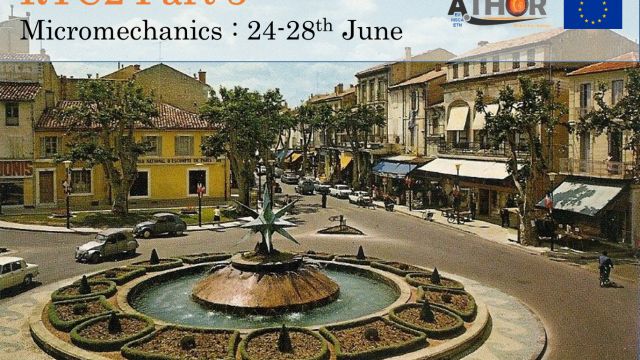 Forth network-wide Refractory Training Course: Micromechanics, 24-28 June 2019, Cavaillon
This training course is referred to the category RTC2 of the academic courses on theoretical basics and modelling. This third part will take place during the last week of June 2019 in Cavaillon (organized by University of Limoges), and will be focused on Micromechanics.
More specifically, the program will contain:
Effective mechanical properties of composites
Effective thermal properties of mineral materials
Micromechanics using Discreet Element modelling
Microstructure monitoring by ultrasounds,
Influence of CTE missmatch, cases studies
R&D Talent : Soft Skills by HR from Saint Gobain
The individual research projects follow up will take place via the poster session on Tuesday 25th and Wednesday 26th June where all ESRs will have an opportunity to demonstrate their results and to have organized discussion with their mentors and field expert scientists.
Site visites of SEPR Le-Pontet as well as ALTEO Gardanne have been organised along with a laboratory visit of SGR Provence.
During this training week we will also be welcoming our european project officer and an external expert who will be assessing the progress of the project as part of the midterm review.  The agenda for this review can be seen here.
For more information, please see the flyer of the 24-28/05/19 training week.